Michigan-based Amer Zahr is a comedian, former Bernie Sanders surrogate, and rabid antisemite who is best known for replacing Israel with "Palestine" on a world map in Rashida Tlaib's office (pictured below) after she was elected to Congress. Zahr cheerleads for terrorists such as Hamas and Hezbollah and often spreads hatred and misinformation of both the Jewish people and the Jewish nation.
During a 2017 Arab American News-hosted rally in Dearborn, Michigan, Zahr referred to the Jewish nation as a "white supremacy movement from Europe," ultimately denying the Jewish people's 5,000+ year connection to Israel and erasing the millions of Mizrahi and Sephardic Jews that comprise the majority of Jewish people in Israel today. Zahr's attempts to rewrite history and deny Jewish history in order to delegitimize restored Jewish sovereignty, attack Israel's legitimacy, and portrays Jews as foreign to the Land of Israel is blatant antisemitism.
During the same rally, Zahr stated: "we say very proudly, that we stand with every resistance against Israel and every resistance against the occupation ... whether it's called Hamas, whether it's called Hezbollah."
Zahr has also glorified convicted terrorists and murderers such as Rasmea Odeh, who was involved in the brutal murder of two Jewish college students when she placed a bomb in a crowded Jerusalem supermarket.
In a 2021 tweet, Zahr posted: "Who can say they were lucky enough to serenade the amazing Rasmea Odeh? I can!" Odeh was booted out of the United States after being found guilty of immigration fraud for concealing her criminal record and her 10-year prison term.
A month prior, Zahr tweeted: "My two Palestine Valentines. Fatima, Leila... Will you marry me?" Fatima Bernawi was a terrorist with the Palestinian Liberation Organization (PLO) and was responsible for a 1967 attempted bombing of a crowded Jerusalem movie theater; she was sentenced to life in prison. Leila Khaled was a leading member of the Popular Front for the Liberation of Palestine (PFLP) and participated in the hijacking of both TWA Flight 840 in 1969 and El Al Flight 219 in 1970. Khaled has said that the second intifada failed because it was not violent enough, has advocated for the use of children in terror activities, and compared Zionists to Nazis.
Just last week, Zahr boarded a flight wearing a shirt emblazoned with a photo of Leila Khaled, encouraged others to adorn Palestinian terrorists known for hijacking airplanes when flying, and posted to Instagram stories: "Even in the airport? Yes!"
As antisemitism was skyrocketing in 2021, Zahr outrageously instructed activists to not condemn Jew-hatred or terrorism, tweeting: "This is a message to all the activists and leaders out there that are condemning antisemitism and condemning terrorism right now. Stop it. Stop. You are not helping alright... You are playing their games... It's a distraction." During 2021, antisemitic incidents more than doubled when compared to the year prior.
Amer Zahr is not only an atrocious Jew-hater but also reportedly a serial sexual harasser of women. Last month, fellow Palestinian comedian Jennifer Jajeh accused Zahr of sexual harassment, leading to nearly two dozen women coming forward with their own allegations against him. A sample of Jajeh's accusation is pictured below.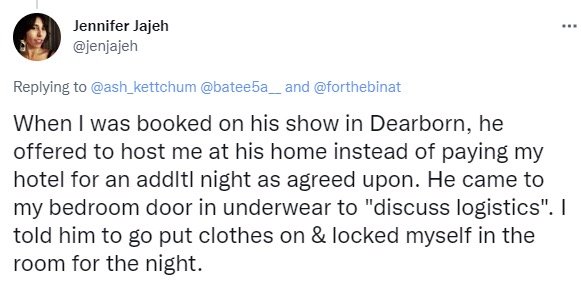 On October 16th, Zahr is scheduled to perform his comedy routine and spread his Jew-hatred at the Hilton Raleigh North Hills. StopAntisemitism needs YOUR help - email the Hilton and voice your outrage that the hotel chain is giving a known Jew-hater and accused sexual predator a stage.